Hindi ako holder ng DITO. I always say that as a precaution kapag about sa DITO ang blog ko. I always keep an objective approach. Madami din ako blog about other stocks and kapag wala akong hawak ay sinasabe ko din.
Sa last ko na blog about DITO ay sinabe ko na yung "ibebenta" na ang DITO ay magkakatruth lang if may halt, suspension or material information na disclosure. If di yun nangyare ay puro opinion lang ang anuman na nakasulat or napapag usapan.
Ang tatlong latest issue ng DITO ay cancellation ng SRO na sa tweet/media unang lumabas kaya napilitan maglabas ng disclo even weekend ang PSE.
Ang pagdefault ng utang ni DITO/DAU na sa media din unang lumabas kesa sa disclosure kaya napilitan maglabas ng statement ang UDENNA at BDO.
Lately yung "ibebenta" na daw si DITO which sa media din unang nalaman.
Hold that thought muna.
Let that sink in.
Lahat ng latest issues ni DITO ay almost galing sa labas at hindi sa disclosure nila mismo.
Why is that?
Umupo ka muna talaga at mag isip.
Bakit si DITO?
Let me show you something.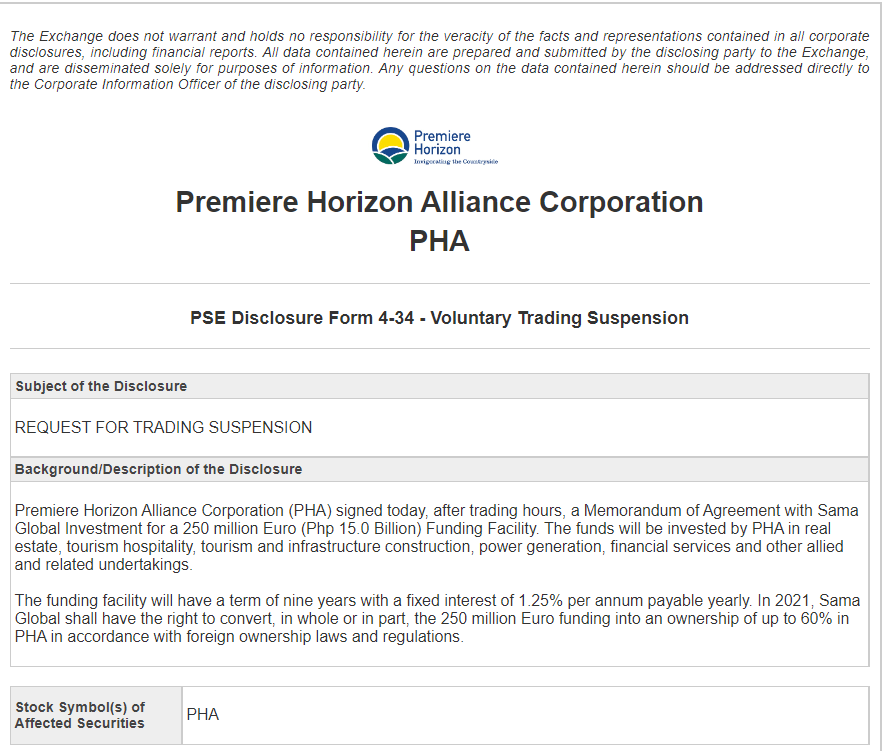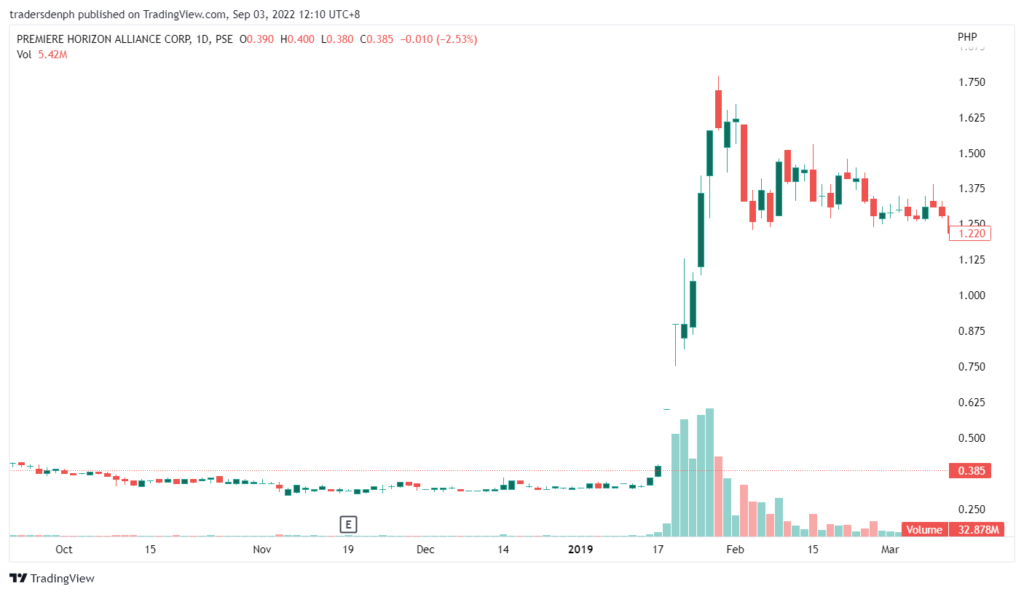 Then biglang out of nowhere eh di na macontact ang SAMA Global.
Naglaho at naputol ang usapan along with the investment dream.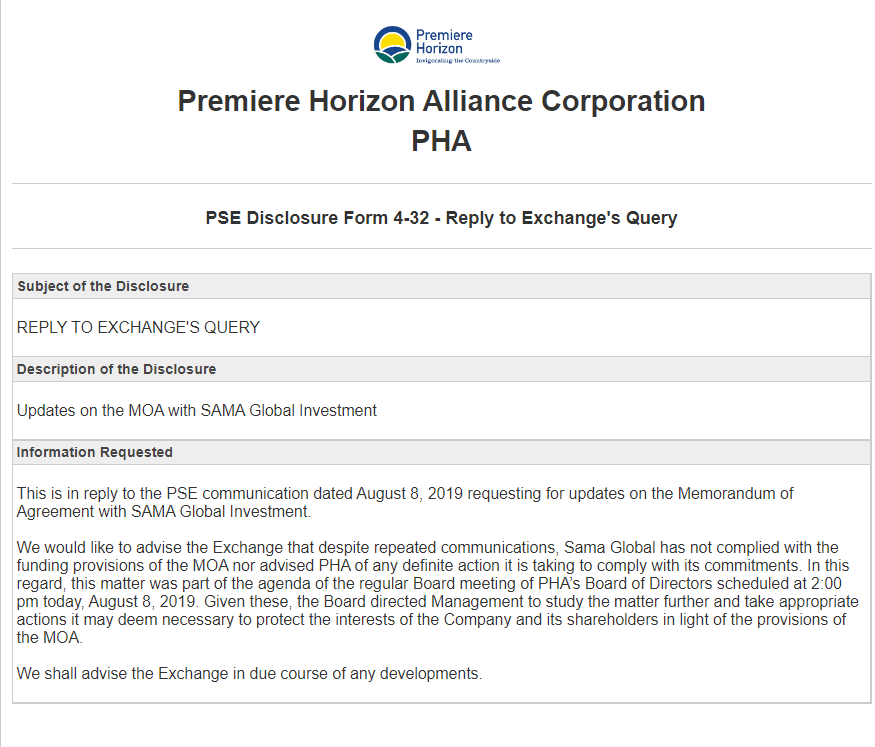 (https://www.bworldonline.com/corporate/2019/12/13/269281/pha-ends-moa-with-qatar-firm/)
May nagwelga? May isaang daang bad publicity?
Wala. Why?
Namention ko na sa last blog na yung PAL nga nabankrupt na at ang AR suspended until now.
Alam mo ano ang kinaiba ni DITO sa mga yan?
DITO is going against two giant telcos.
Mga may ari ng iba't ibang companies ang mga yan aside lang sa telco.
They will just surrender their market share just like that sa tingin mo?
If you stop and observe ay makikita mo talaga na obvious sobra na mula sa labas lahat ng latest issues ni DITO.
Di pa nga yan nananalo as 3rd telco alam na ng lahat na they will go into debt for few years kasi ganun naman ang structure ng isang capital-intensive business.
Kahit sino ang manalo doon sa mga third telco candidates ay uutang din.
Bago tayo magpatuloy ay I want you to read this one.
(https://www.thesmartpeso.com/blog/john-gokongwei-s-inspiring-speech)
Inspiring na speech yun ni John Gokowei.
From that ay nais ko na tutukan ninyo ang Challenge number 2.
Challenge No. 2: In 2003, we established Digitel Mobile Philippines, Inc. and developed a brand for the mobile phone business called Sun Cellular.
Prior to the launch of the brand, we were actually involved in a transaction to purchase PLDT shares of the majority shareholder.
The question in everyone's mind was how we could measure up to the two telecom giants. They were entrenched and we were late by eight years! PLDT held the landline monopoly for quite a while, and was first in the mobile phone industry.
Globe was a younger company, but it launched digital mobile technology here.
But being a late player had its advantages. We could now build our platform from a broader perspective. We worked with more advanced technologies and intelligent systems not available ten years ago. We chose our suppliers based on the most cost-efficient hardware and software.
Being a Johnny-come- lately allowed us to create and launch more innovative products, more quickly.
All these provided us with the opportunity to give the consumers a choice that would rock their world.
The concept was simple. We would offer Filipinos to call and text as much as they want for a fixed monthly fee. For P250 a month, they could get in touch with anyone within the Sun network at any time. This means great savings of as much as 2/3 of their regular phone bill! Suddenly, we gained traction.
Within one year of its introduction, Sun hit one million customers.
Once again, the paradigm shifts – this time in the telecom industry. Sun's 24/7 Call and Text unlimited changed the landscape of mobile-phone usage.
Today, we have over 4 million subscribers and 2000 cell sites around the archipelago. In a country where 97% of the market is pre-paid, we believe we have hit on the right strategy.
Sun Cellular is a Johnny-come- lately, but it's doing all right. It is a third player, but a significant one, in an industry where Cassandras believed a third player would perish.
And as we have done in the realm of air travel, so have we done in the telecom world: We have changed the marketplace. In the end, it is all about making life better for the consumer by giving them choices.
I made some research about Sun Cellular and I found out na ultimately ay binenta ang Sun sa PLDT.
(https://www.spot.ph/newsfeatures/47983/pldt-to-buy-515-percent-of-sun-cellular-operator-digitel)
May similarities kasi sila ng pinagdadaanan ni DITO in the sense na mga giants at established na ang kacompetition nila when they arrived sa scene.
Walang old player ang matutuwa sa pagdating ng bagong player.
I conclude na this will not be the last issue na dadaanan ni DITO.
Most of it ay galing sa labas.
If DITO holder ka you should have this rule sa self mo.
KAPAG HINDI GALING SA DISCLOSURE AY DI TOTOO ANG ISSUE OR ANG PROBLEMA.
That way hindi ka macoconfuse kasi yan naman talaga ang purpose ng disclosures yung mag disseminate ng totoong information sa shareholders.
As I said sa simula ay wala akong hawak na DITO.
I'm a trader and I trade using technicals.
Kapag pumasok si DITO sa buy signals ng strategy ko ay bibili ako. If not then hindi ako bibili. Yun lang ang stand ko.
I blog about stocks paminsan minsan to inform traders.
I also want to invite you sa September 30 on our big event.
We will have THE BERZERK SYSTEM Course. –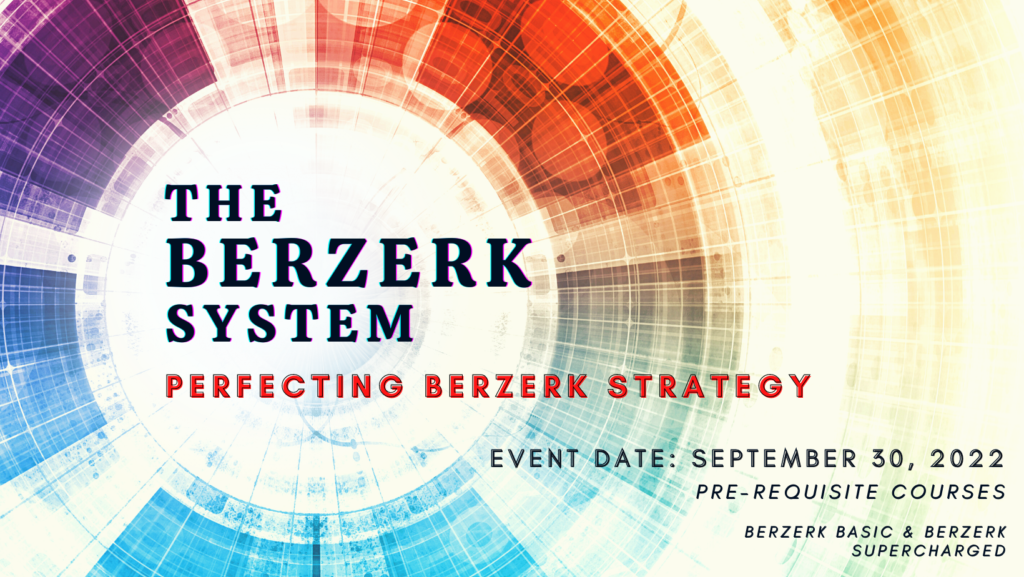 Ito ang course na hindi mo dapat mamiss while buhay ka dito sa earth.
Why?
Let me show you sa nangyare sa mga trades ng traders na umattend sa nakaraan na mga courses namin.
Heto ang result sa trades ng mga umattend noon.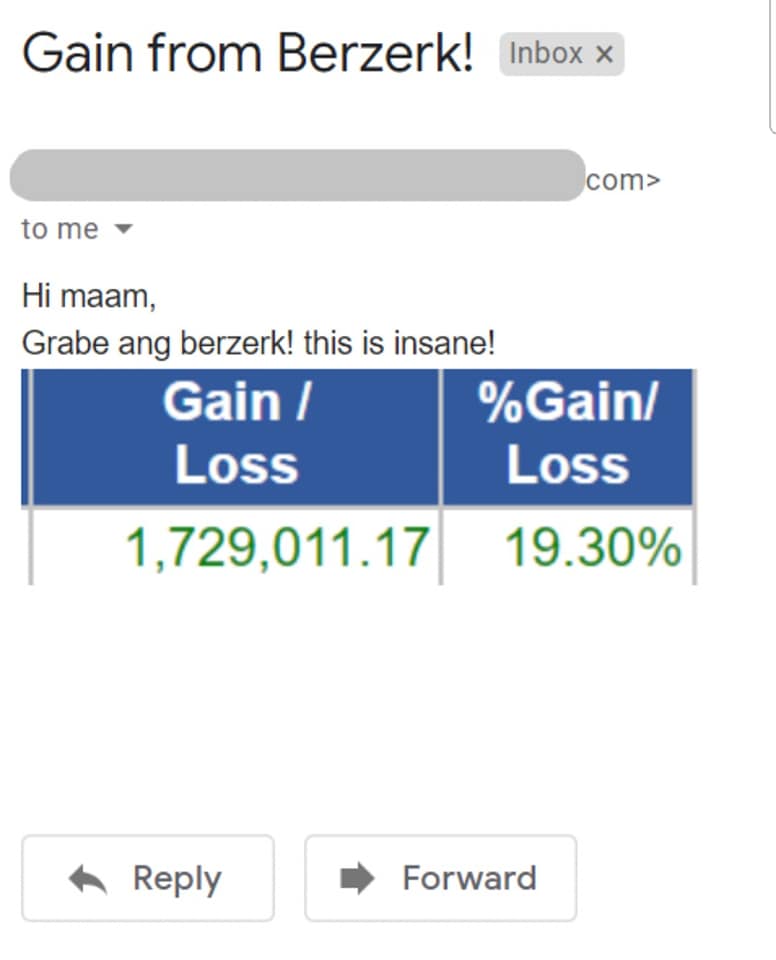 Heto ang mga experience ng previous course attendees ng MASTERCLASS SCALPING and DAY TRADING.
Heto ang comment nila after ng course.