LRW (A Glimpse Of Dynamic Learning)
made this blog a week ago for TDS as part of their Dynamic Learning.
I will share it to all of you so you will have an idea of what Dynamic Learning really is and how powerful it is.
Let us take LRW for example. Take note that this blog was a week ago. I will add an update sa end though.
Tara let us begin!
MAGHANDA NG KAPE OR JUICE
Mahaba po ang blog na ito kaya I suggest magkape kayo o kumuha ng juice.
Himayin natin ang nangyayare sa LRW.
BAGSAK SI LRW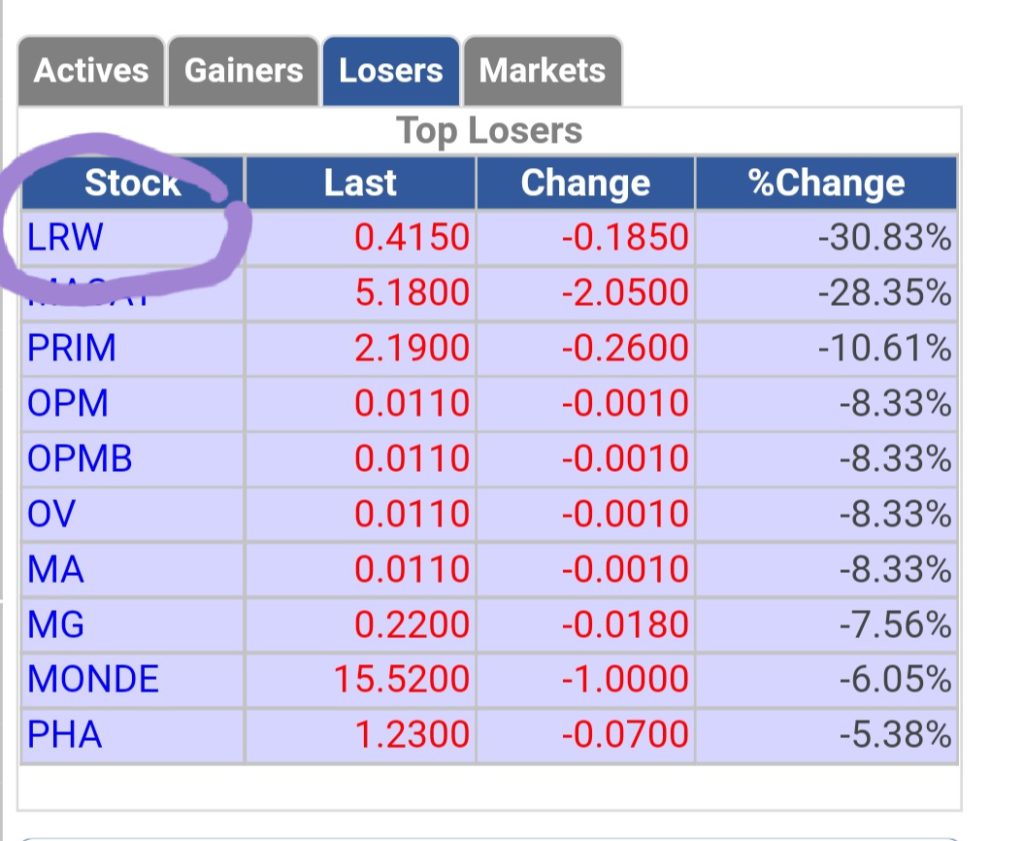 Nakita naman ninyo siguro na ilang araw na bagsak si LRW.
Malamang ay naguguluhan kayo kung bakit.
Tara himayin natin.
I'm trading habang ginagawa ang blog na ito so kukuha lang ako examples sa net at papaliwanag ko na lang para di ako sobrang mahirapan at baka di ako makakylos sa trades ko.
WARRANTS
Ang LRW ay isang warrant.
Ano ang warrant?
Ayon sa COL website ang warrant ay….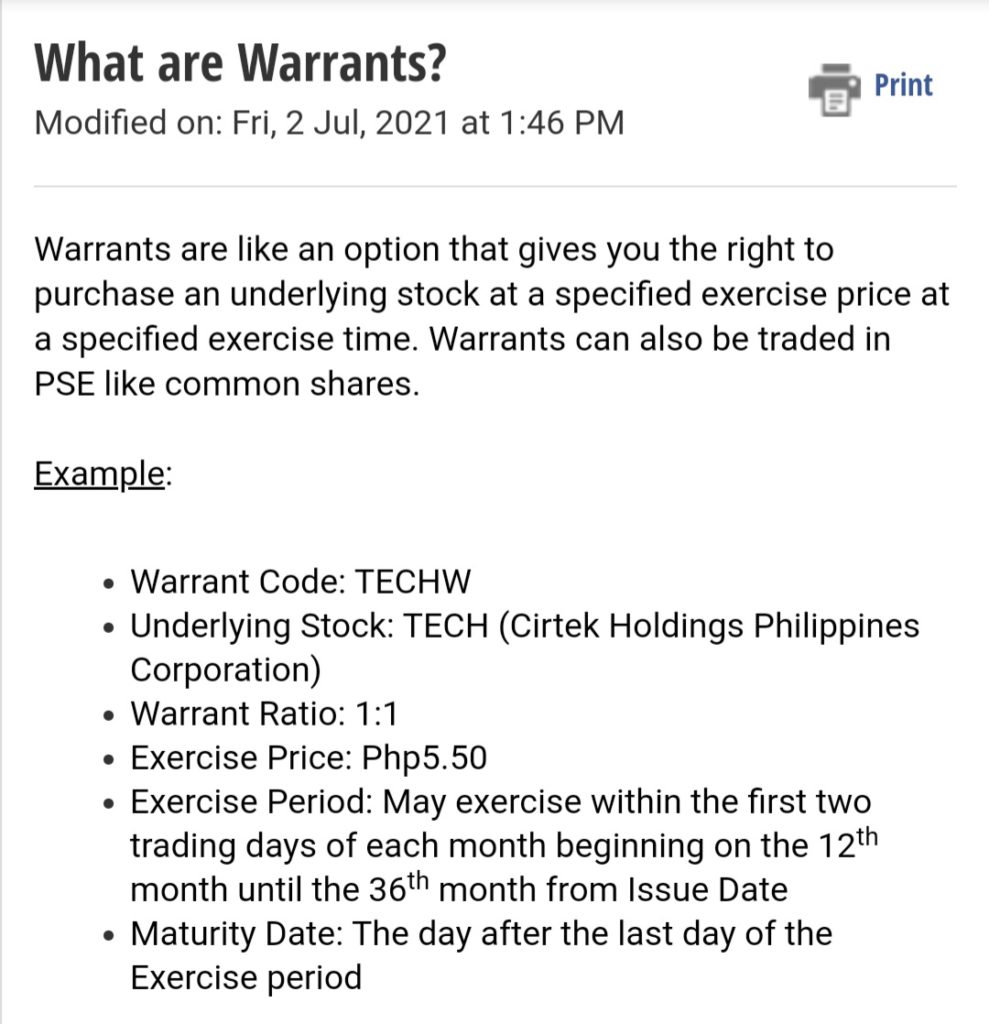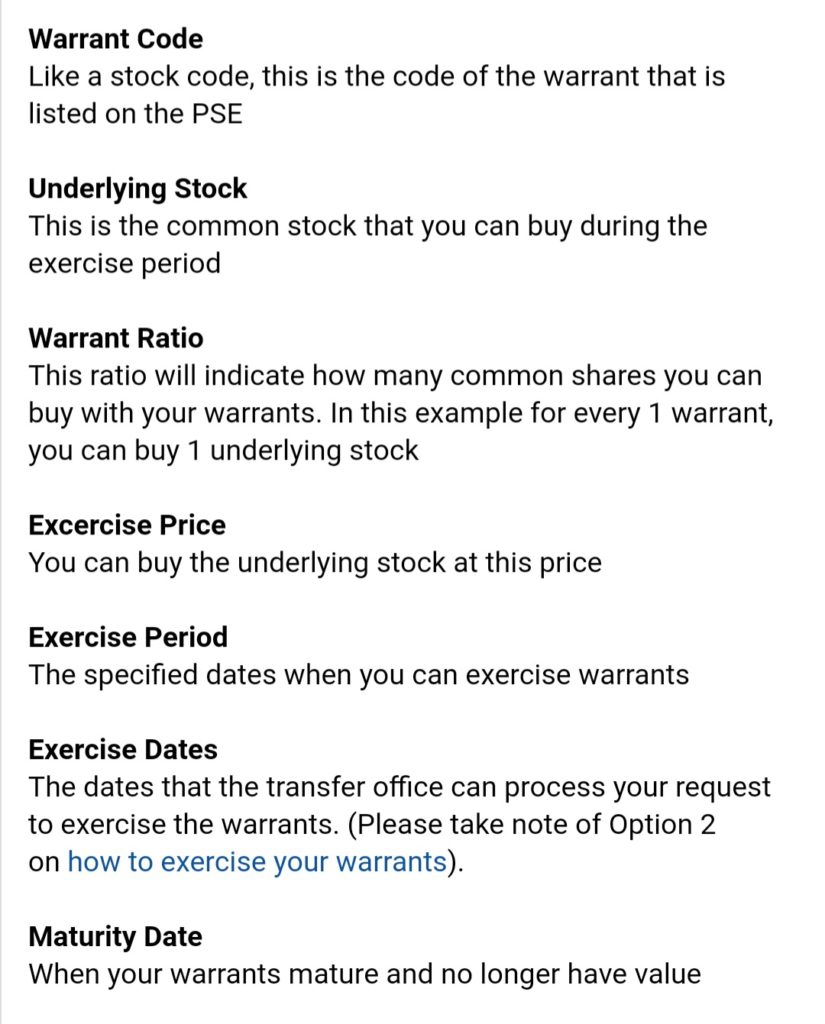 Sa madaling salita ang isang warrant ay karapatan sa pagbili ng isang stock at a specified time at price.
Hahaha. Tinagalog lang eh noh?
Ok ganito.
Me itlog business ka.
Ang pangalan ng itlog company mo ay Eggol.
(Di ko alam bakit yan example ko yan lang talaga pumasok sa utak ko)
Ang presyo ng itlog mo ngayon ay 10 pesos bawat isa.
Nagbigay or nagbenta ka ngayon ng rights. Sabi mo "heto ang papel."
"Sino man ang me hawak sa papel na ito ay makakabili ng itlog ko mula ngayon up to 10 years from now sa halagang 15 pesos"
Eh benta ko ang papel na ito sa halagang 5 pesos.
Pag binili mo yun ng 5 pesos eh di binili mo ang karapatan na bilhin ang itlog niya sa halagang 15 pesos.
Sa ngayon walang sense yun kasi talo ka kasi nga 10 pesos lang ang price ng itlog niya.
After 5 years kung naging 20 pesos ang itlog dahil me right ka eh sa 15 pesos mo pa rin mabibilo.
After 9 years kung 100 pesos na ang itlog eh 15 pesos m pa rin mabibili.
After 10 years mag eexpire ang rights mo meaning wala na itong halaga ke isang centimo.
If after 5 years eh naging 5 pesos na lang price ng itlog niya sa 15 pesos mo pa rin bibilhin kasi yun ang nakasaad sa rights na hawak mo.
After 9 years kung 2 pesos na lang price ng itlog niya eh sa 15 pesos mo pa rin bibilhin.
After 10 years wala na. Expired na ang rights na nabili mo 5 pesos.
Clear ba?
Yan ang warrant sa simpleng paliwanag.
LR
Yung LR ay nag issue ng warrants noong 2013 yata if di ako nagkakamali.
Parang bonus yun sa mga holders nung me noon.
Nakasaad sa warrant na may karapatan ang me hawak nun na bilhin ang LR na stock sa halagang 15 pesos per share mula 2018 to 2021.
Well, ok yun kung ang LR eh sobrang mahal na ngayon.
If 100 pesos amg per share mg LR edi tubong lugaw ka.
Ang problema eh 1.45 pesos ang stock price ni LR hahaha.
Ang all time high nga niya nasa below 13 yata if di ako nagkakamali.
So, if me LRW ka kailangan mo bilhin ang LR sa 15 pesos. Yan lang naman purpose ng warrants. Mag eexpire na ang warrant or ang LRW.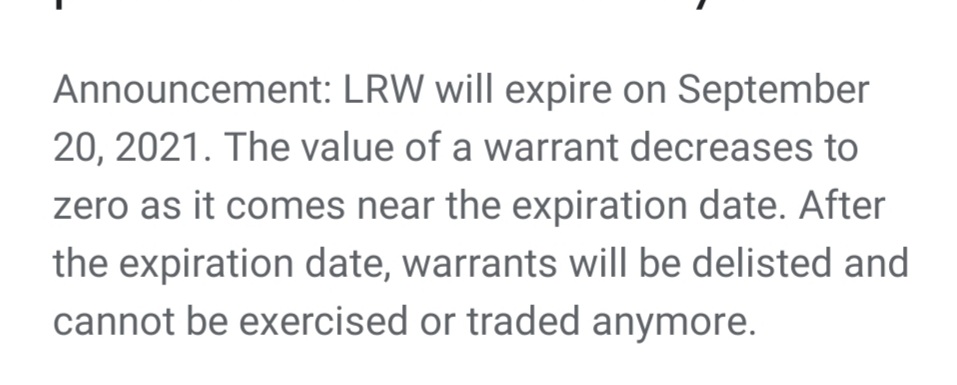 Pag expire niyan zero na value niyan.
Dalawa moves mo plus 1 wish.
TATLONG MOVE PLUS 1 WISH
Unang move is eh benta mo ng palugi at me matira ka na pera.
Second is eh exercise mo rights mo meaning bilhin mo ng 15 pesos ang LR na ngayon eh 1.45 pesos. Hahaha.
Third, hayaan mo mag expire at zero value nito.
Pwede ka magwish na maawa sila or ang PSE at eh extend or ipaextend ang expiration ng warrant which I dont think mangyayare pero if mangyare man di ko alam paano nila eh maneuver.
Yan ang options mo pag holder ka ng LRW.
"Maam bakit walamg ceiling or floor price si LRW"
Eh kasi nga warrant siya.
Ok paliwanag ko.
Meron mga stock na pag backdoor listing or pag matagal nasuspend at nagresume eh walang ceiling at flooring for a day diba?
Gaya nila APVI noon at Mah.
Ang warrants walang flooring at ceiling pero di lang one day… porebah!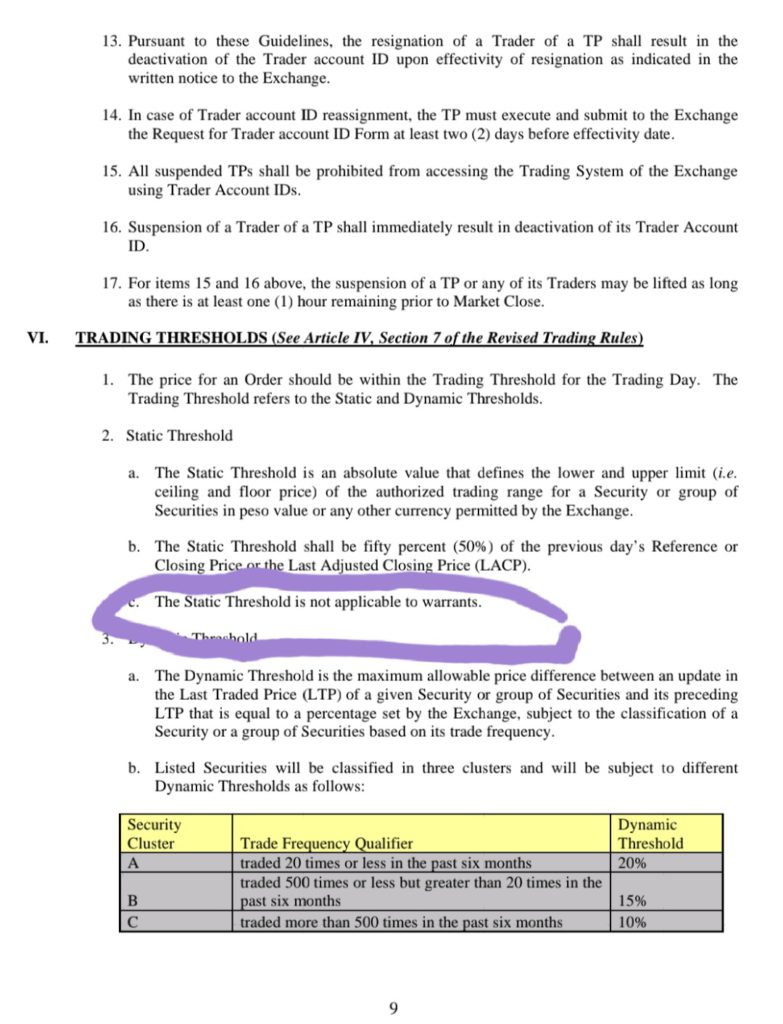 Walang floor or ceiling ang warrants. Nasa rules yan.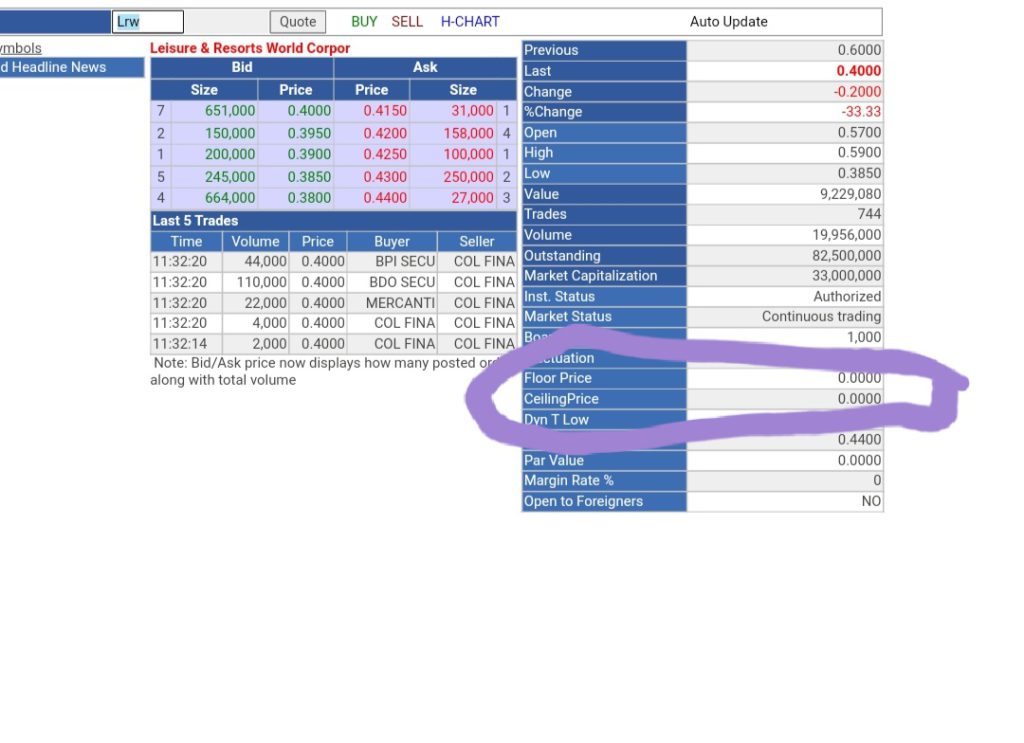 Pa expire na ang LRW this September.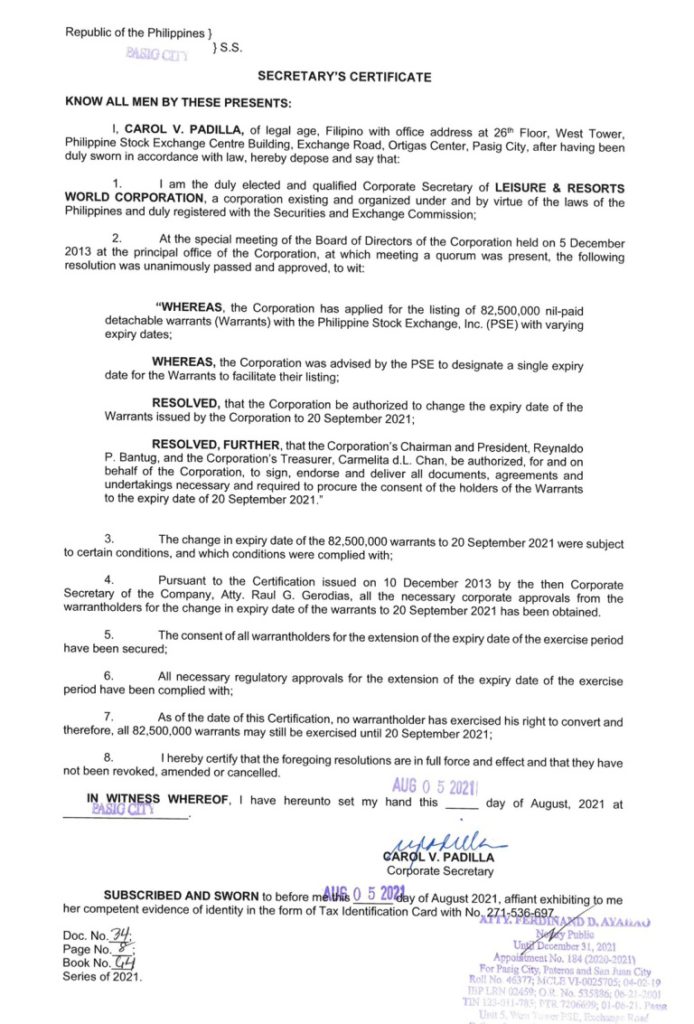 SINONG TANGA ANG BIBILI NG WARRANT MAAM?
Well, its a gamble kasi. Tanga now kasi 1.45 pesos ang LR. Eh pnu kung parang kaprice ng mga TEL or GLO ngayon ang LR which was 1k plus tapos me warrant ka at 15 pesos mo mabibili ang TEL or GLO. Oh diba tubong lugaw ka?
Hahaha. Teka… bat ba tubong lugaw? Saan ba galing yang tubong lugaw? Pakicomment na lang if alam ninyo.
So yan.
Marami di alam yan na warrant ang LRW kasi di pa naman sila yata nagtitrade nung time na nangyare yan or time na naissue ang warrant ni LR.
"Maam paano if gusto ko eh exercise ang rights ko sa warrant?"
Best move mo is eh contact ang broker mo at dun mo eh tanong if paano yun at yung specifics ng warrants mo. Do it bago maexpire.
Marami din kasi pwede mangyare. Yes, September 20 ang expiration ng warrang. Pwede ba eh suspend ang LRW bago ang expiration? Pwede. Depende sa PSE.
If TDS ka I suggest stay off sa LRW.
Di worth ng stress.
Im very sure na marami sa labas nagsusugal dahil lang sa lack of information.
Funny kasi noon I give information freely sa traders pero di nila ako sinusupport at madami pa ayaw sakin.
Now if TDS ka spoiled ka sa information sakin.
Pag me ganap sa trading at alam ko asahan mo malalaman mo rin.
Edge nyo din yan.
Heto si LRW nung time na napublish ang blog na ito.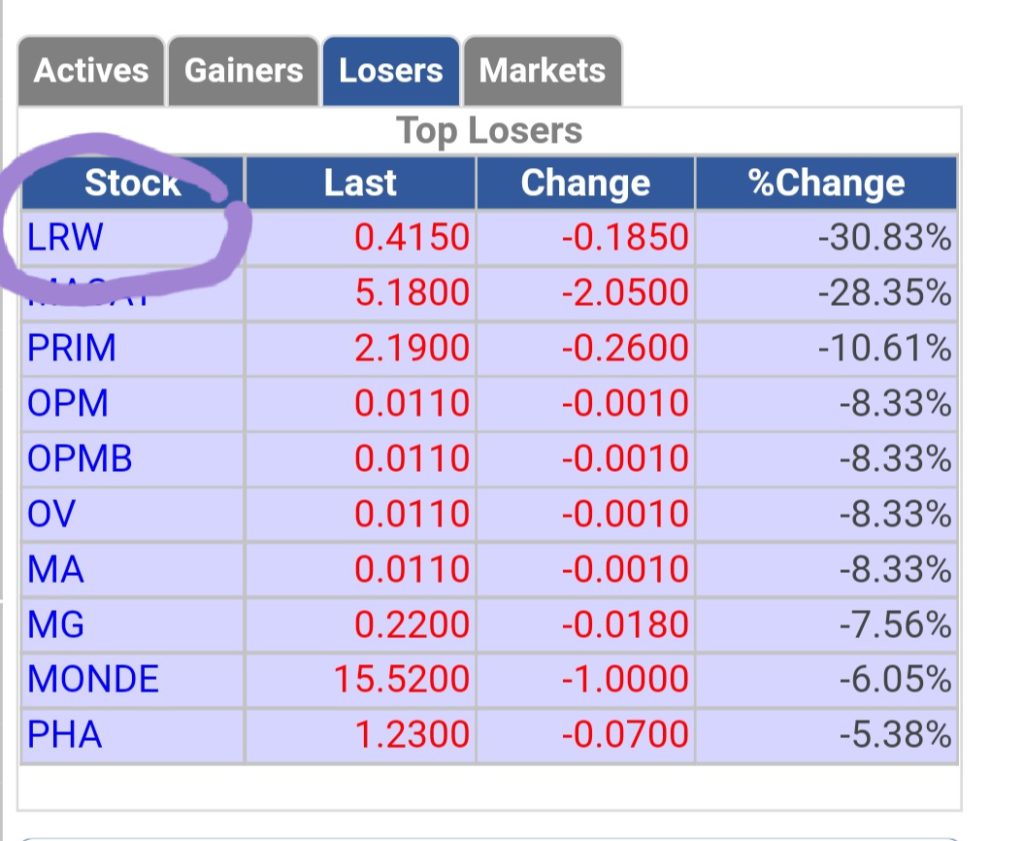 As an update heto na si LRW few days ago.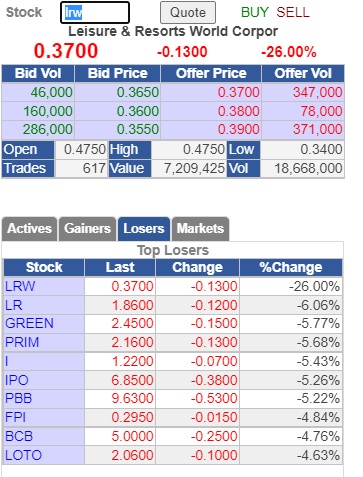 ANO NA NGAYON?
As an update heto na si LRW ngayon.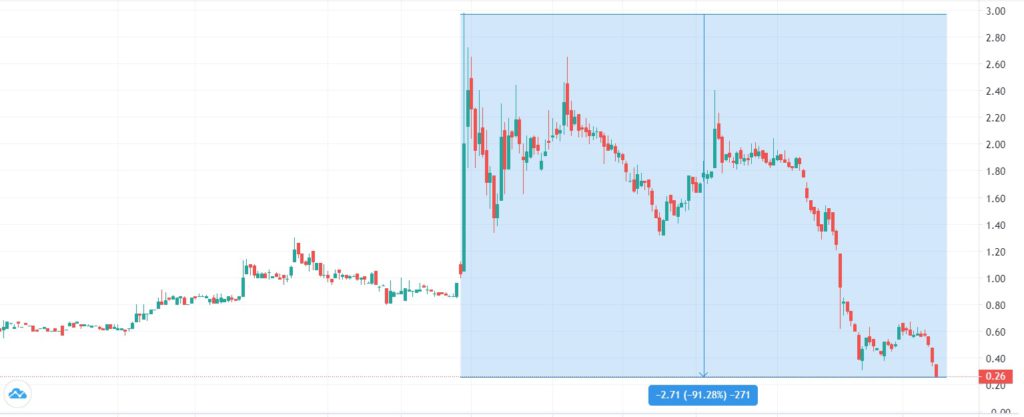 Last September 9 ay naglabas ang LRW ng voluntary trading suspension notice.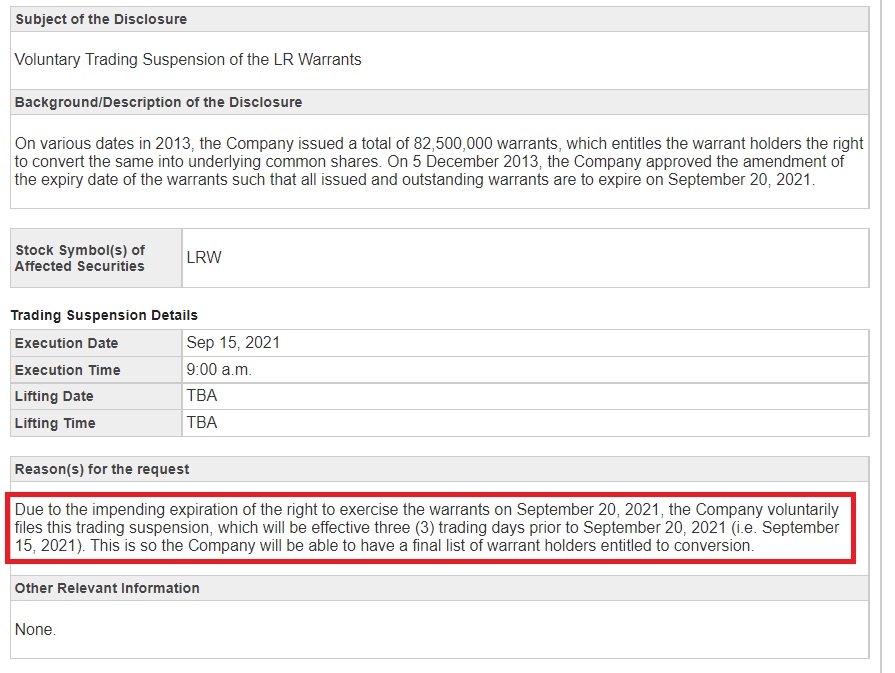 So 3 trading days prior eh suspended na ang pagtrade ng LRW.
"Maam unfair!!!"
"Paano ako ipit ako?"
"This is so unfair!"
"Mafia ito!"
Well, it sucks to admit it but yung kawalan mo ng information made your situation unfair.
Una sa lahat akala mo basta may stock code ay totoong stock na or company na. Wala ka idea sa warrants. Second, hindi mo rin alam eh interpret ang news.
Let me give you an idea sa process ng pag exercise ng warrants to convert your LRW into LR shares para lang maintindihan mo.
Here:

YOU SEE THE EDGE OF HAVING A DYNAMIC LEARNING SA TDS?
A lot of you think na TDS is all about strategy and cutting losses. Its not. Its about Dynamic Learning and a lot more.
Marami sa inyo nagsusubscribe sa news at nagbabasa ng news. That is great but naiintindihan mo ba?
Malamang hindi kasi hindi naman catered sayo ang news.
Bigyan kita ng example. Few weeks ago lumabas ito.

Pag nabasa mo yan ano understanding mo?
Bakit may halt?
Bakit may tender offer?
Ano ang tender offer?
Yung news ay di yan catered sayo. Assumed na ng writer na gets mo na ang tender offer. Assumed na ng writer na gets mo na ang rules sa trading halt.
Di niyan sasabihin na "Ganito kasi yan. May investor na gusto bumili ng malaking shares ng FGEN kasi gusto nila mag invest. Ngayon ayun sa rules ng PSE kapag bibili ka ng malaking shares ay kailangan mo magtender offer sa public para fair. Para magkaroon din sila option na mabenta shares nila if di nila trip ang papasok na investor. Eh ang presyo ng FGEN 28 pesos. Ang tender offer ay 33 pesos. Aangat syempre ang FGEN kasi marami bibili na ang purpose lang ay eh benta sa tender offer na 33 pesos. Bilhin mo 28 tas eh benta mo 33. Oh Dyiva.."
Yan ang power ng pagiging TDS with regards sa Dynamic Learning.
Bawat news. Bawat ganap sa trading.
Sample yung PAL nakaraan. Nagdeclare bankruptcy.
Alam mo ba ang bankruptcy?
Alam mo ano ibig sabihin ng chapter 11?
alam mo na may iba't ibang uri ng bankruptcy?
Anong uri ang nideclare ni Pal?
Bakit siya nagdeclare?
Ano anu pang mga stock ang affected kapag di nakapagbayad ng loans ang Pal?
That and a lot more.
Yan ang power ng Dynamic Learnings. Yan ang isa sa namiss out mo if hindi ka TDS.
Ang gagawin mo Im sure is tumambay sa kung saan na groups or social media platform and makibalita/makichismis sa latest.
Kaya ka prone sa hype at misinformation.
If you want to learn trading properly and have that edge sa mga ganap sa stock market then come join TDS and ayusin natin pagtrade mo.
Do not miss this chance!
Looking for Pinoy Stock Trading Community? Join Traders Den!
If you don't know where to start, you can visit our Shopee store. Click the image to go to Shopee now.