DITO Update (Instead Of Hype Or Bash, Educate!)
If nasa maling crowd ka malamang either nakikibash ka para magspread fear for others to sell or nakikihype ka para mang influence sa iba na bumili.
I have no DITO. Will I buy DITO? Yes kapag pasok sa strategy. Nope kapag hindi pasok sa strategy. Yung news walang bearing sa buy and sell decision ko kasi technician ako.
Whatever information ang makuha mo sa blog na ito ay objective at wala akong bias towards or against DITO.
Recap lang muna natin a little bit. Nagkaroon ng balita na nagpadala ang BDO ng "default notice" na ifoforclose ang collateral sa loans ni Dennis Uy. Ang keyword is "notice" meaning nag inform sila na ifoforclose nila soon kapag hindi nagbayad.
Bakit ba nagpapadala ng notice ang banks? Ano ang purpose nila in doing that?
You need to understand na negosyo ng bank ang magpaloan. Its not really a favor to anyone kasi they earn doing it at negosyo talaga nila yan. Hindi nila main business ang magforeclose ng collateral. They do that to protect themselves. Protection nila yan but as much as possible ay pipiliin nila na kumita through loans (interest) kesa magforeclose unless wala na silang choice.
Kaya nga yung mga delayed payments sa mga car loans at housing loans ay may mga penalty muna at hindi agad finoforeclose.
"A bank official said the BDO's intention in serving the foreclosure notice was not to seize Uy's assets, per se, but to force the businessman to come to the negotiating table."
Yan ang news sa inquirer.
Ano ang ginawa ng kampo nina Uy?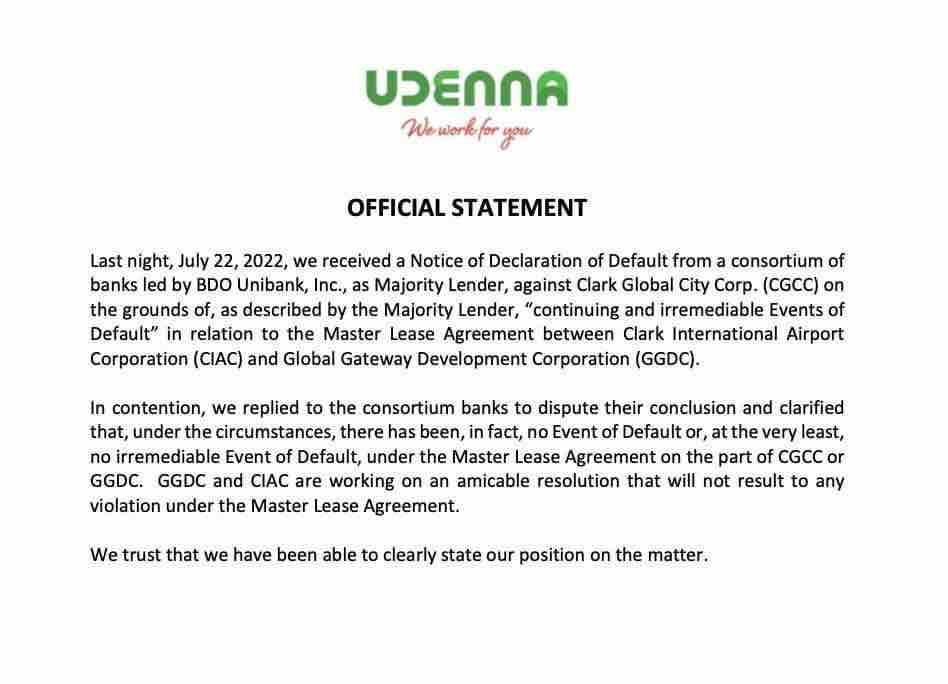 What was this reply say?
Sabi nina UY na yung grounds daw ng Notice of Declaration of Default ay yung continuing and irremediable events of default in relation to the Master Lease Agreement between CIAC and GGDC which wala naman daw event of default or at the very least no irremediable event of default under sa Master Lease Agreement on CGCC or GGDC.
They are now working on an amicable resolution that WILL NOT result to any violation under Master Lease Agreement.
That should have settled the argument. Di na kailangan hintayin ang few days na binigay ng BDO kasi oramismo eh they are working na sa amicable resolution.
This might be the reason na walang disclosure or wala pang intervention ang PSE kasi normally sa mga ganito mag iintervene agad sila and normally para maprotect ni UY ang shareholders against misinformation ay magrerequest yan ng trading halt muna or suspension. Yan ang di yata narerealize ng mga gusto bumagsak ang shares ng mga stock ni Dennis Uy.
Di nila hahayan yan na dahil sa fear eh babagsak ang stock price. That's the norm naman sa kahit anong stock. Either voluntary ang pag request ng halt/suspension or ienforce ni PSE.
Take ABS as an example. If walang halt/suspension yun nung paglabas ng news na di sila nakarenew ng franchise eh maraming floor na bubutasin yun.
I'm sure na may disclosure ito soon either material information or clarification of news report kapag walang halt/suspension.
The funny thing about anything involveing Dennis Uy ay namamagnify lahat pagdating sa kanya. May be its the DUTERTE connection. Maybe its going against giant Telcos. i do not know what it is kasi if iisipin mo yung PAL na nga mismo nagdeclare ng Bankruptcy but walang grabe na news.
Pagdating kay Dennis Uy talagang di lang grabe ang news may pattern pa ng leak if observant ka. Yung pagcancel ng SRO leak yun mula sa tweet ng isang journalist. Late na nadisclose yun. Heto naman sa news naman uulit galing yung balita na may notice of default.
My personal opinion sa DITO ay same lang din siguro na magkakaroon ng debt kahit hindi DITO ang nanalo as third telco. If si Now nanalo ay same lang din nauutang ito. If si TBGI or VUL ay same lang din kasi capital intensive talaga ang Telco business.
WHAT TO DO ON MONDAY?
Yan talaga ang gusto malaman ng mga pro at against kay DITO.
No one can predict ano mangyayare sa Lunes.
I think rather na magspend ka time predicting ano mangyayare sa lunes ay magprepare ka na lang ng plan.
Enter or exit based sa plan mo.
Traders focus too much sa hype at bash na nakakalimutan na yung mismong details ng news. May notice na binigay para magreply at magtake action. Nagreply na at nagtake action. Yun na dapat yun but no….
"Babagsak si Dito dahil (insert opinion)"
"Aangat si DITO dahil (insert opinion)"
If nasa tamang crowd ka ang tamang gagawin ng mga vet or ng may alam ay ieducate ka kung ano ba ang nangyayare. Ano ang foreclosure? Bakit nagsend ng notice? Ano ang options ng nakatanggap ng notice?
Educate instead magspread ng fear or hype.
I try my best to educate as much as I can whenever I can.
If you want to learn more about trading especially yung kakaibang approach at ideas ay iniimbitahan kita this coming Sunday.
We will have our I DARE YOU TO TRADE 4 event.
Bago ka umayaw ay tingnan mo muna mga results ng mga umattend ng course na ito last week. 
Heto ang mga comments nila after the course.