Real Story of A Stock Trader
I want to tell you a real story of a stock trader na nagrevenge trading.
Its an amazing story kasi bukod sa totoo eh it just happened.
Let me show you the trade transaction then kwento ko anong nangyare.
Here: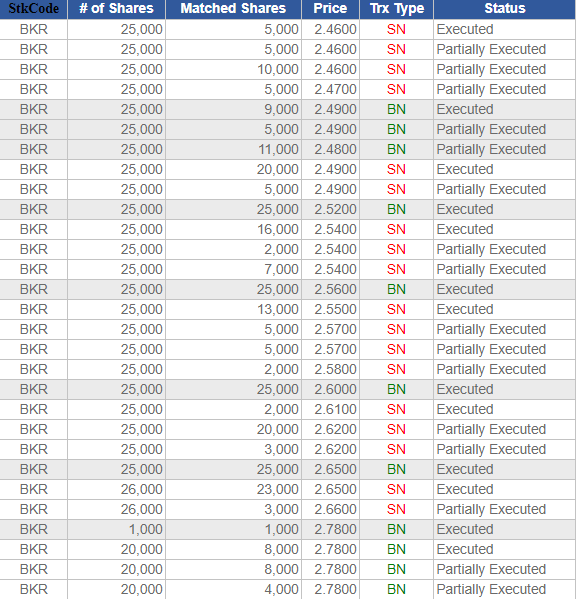 Now, atat siya magtrade kasi "trading is life" yata ang motto. Hahaha!
Atat siya magtrade and napili niya bilhin ang BKR.
Nasa top gainer ang BKR kanina.
Bumili siya at 2.78 pesos.
Bumaba ang BKR at nagbenta siya.
Took some losses na sana and moved on diba?
Kaso nahurt ego niya na natalo siya at kinain siya ng emotion na bumawe.
Bumili ulit siya at 2.65 pesos.
Bumagsak.
Nagbenta sa 2.62 pesos.
Gusto ulit bumawe.
Bumili sa 2.60 pesos.
Bumagsak ulit ang BKR.
Talo ulit.
Gusto ulit bumawe. Bumili ulit.
Talo ulit. Gusto ulit bumawe.
On and on and on until last sell niya ay nasa 2.46 pesos.
Now, ano sa tingin mo ang problema ng trader na ito?
Revenge trading does not just happen.
Rooted yan na problema.
It has something to do with a person wanting to be right.
Its not about the gain or the loss para sa isang revenge trader.
Ang victory jan ay mapatunayan na tama siya.
Di ka pwede maging mas tama kesa kay Market.
Mauubos lang pera mo.
If you are having some revenge type of trading ay may tip ako sayo.
Have a system.
Yan ang solution jan.
Build or create a system.
Lipat mo ego mo sa system.
Yung pagiging right ay pagfollow ng system mo.
Yung pagiging wrong ay di pagfollow ng system mo.
Your trading career will do a 180 degree turn kapag ginawa mo yan.
If di mo alam gumawa ng trading system ay pwede kang sumali sa methodology masterclass namin.
CLICK HERE: HOW TO JOIN METHODOLOGY MASTER CLASS
Try mo and see the difference sa trading mo.