Sino Ang PINAKAMAGALING Na Trader Sa Pilipinas?
I bet that question entered your mind.
Sino nga ba ang pinakamagaling na trader sa Pilipinas.
Bago ang natin masagot yan ay idefine muna natin ang term na magaling.
Ano ang magaling na trader?
Siyempre yung may pinakamalaking gains diba?
Yung may pinakamaraming profit.
Yung may pinakamaraming wins.
BUT…
Dito ngayon papasok ang isang malaking problema.
Yung wins, gains at profits ay product ng market at hindi ng isang trader.
What do I mean?
Lets say bumili ka ng stock XYZ using your strategy.
Bumili ka sa price na 10 pesos.
Para umakyat ang stock XYZ sa 11 pesos ano ang kailangan mangyare?
Kailangan may mga buyers after mo bumili na willing magbuy higher than you.
Someone else needs to buy XYZ higher.
Yung someone na ito ay di mo kakilala. It can be a person. It can be an insti. It can be a fund manager.
After mo buy ng XZY sa 10 pesos ay wala ka nang ibang gagawin but to wait.
You sit there and wait.
In short, wala kang kinalaman sa mangyayare or nangyare after mo bumili.
Lets say yung XYZ ay umakyat sa 100 pesos. That's 1000 percent gain.
1,000 percent gain na walang kinalaman sayo or sa skill mo but dahil may ibang mga traders/investors na bumili higher and higher and higher.
Hmmmm… yan ang dilemma ngayon.
Para fair ay wag na lang natin sukatin kung sino ang magaling. If nasa trading ka pa rin after the 2020 crash until now na Bear market ay isa ka nang magaling na trader.
Fair diba?
If may nagpapagalingan pa na trader ay hayaan na natin sila.
While nagpapagalingan sila ay dito tayo sa mga tunay na trading results mula stocks, forex or crypto.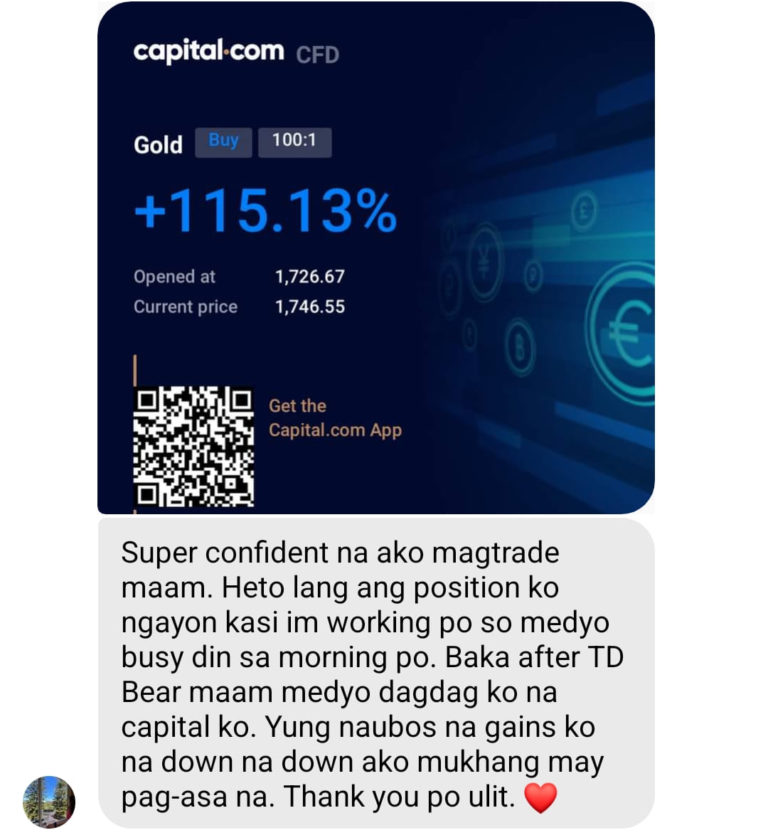 Yan ay trade results ng mga traders after nila umattend ng I DARE YOU TO TRADE 4 event.
Heto ang mga comments nila after ng event.
I don't know about you but I rather have real and actual trading results kesa magpagalingan kanino man.
We will have another I DARE YOU TO TRADE 4 event this July 31.
Don't miss it for the world!
Avail I DARE YOU TO TRADE 4 here: https://forms.gle/HarAbDRF5HR4i1kL6