We just covered Bounce Trading sa Methodology Masterclass and I want to enlighten you about the popular term sa trading community na "technical bounce."
What is a technical bounce?
It's a myth.
It's more of an excuse for not knowing what's happening than a myth actually.
As humans, we are curious. We always want to know the "whys" behind everything.
"Bakit sumakit ang ulo ng kapatid ko? Ah..nabasa ng ulan kahapon."
"Bakit nasunog yung sinaing? Ah… di napansin kaka ML."
It drives us nuts pag di natin alam ang why.
It often makes us feel small.
Feeling natin wala tayong control or understanding sa pangyayare dahil di natin alam ang why.
Most traders or investors ay inaapply din ito sa stock market.
"Bakit bumagsak ang index? Ah… may Ukraine and Russia conflict."
"Bakit bumagsak ang CEB?Ahh.. Pandemic kaya wala halos flights."
Kapag may nangyare na di mapaliwanag especially when a stock goes up after a decline ay they call it "Technical Bounce."
Nagbounce dahil nagbilihan ang mga traders na nagrerely sa technical analysis.
It might make sense sayo kasi yan ang term na kinamulatan mo or naririnig mo lagi kaya inisip mo na yan na nga ang totoo.
If iisipin mo ng mabuti ay walang sense ang phrase na yan.
Yung mga traders na gumagamit ng technical analysis ay nagtitrade gamit technical analysis no matter ano man ang condition ng market.
They don't just suddenly appear out of nowhere para sa technical bounce.
I made this as a blog kasi I want you to somehow open your eyes.
Yung inaakala mo na stock market or yung kinamulatan mo na stock market might be a lie.
Let me go through some of the myth na lagi mo maririnig.
INVEST IN GOOD COMPANIES LIKE WARREN BUFFETT
Maririnig mo ito lagi sa trading community sa Pilipinas.
Almost no one noticed na mismong si Warren Buffett ay di nag iinvest sa emerging markets gaya ng market sa Pilipinas.
He does not consider any stock sa market natin as good companies.
BUY AND BE WILLING TO HOLD A STOCK FOR DECADES
Ito yung idea na nakuha din ng karamihan kay Warren Buffet.
Most really think na Warren Buys and Hold forever.
Most don't realize na nakailang cut na ng losses si Warren. Yung most recent was his Airline Stocks Investments.
BUYING A STOCK IS OWNING A PART OF A COMPANY
Nope. You bought a stock that represents a tiny share in a company. They may advertise it as you owning a part of the company but that is too far from the truth. Naeexaggerate lang talaga ang ownership na term pagdating sa stocks. You cannot just go to a Jollibee outlet and demand a discount or fire somebody. You own stock. You do not own the business or the company directly.
Yung ownership ng company is just an oversimplification sa pagdiscuss sa mga newbies para lang macomprehend nila ang stock market at kung paano ito nagwowork kasi mahirap eh explain ang stock market sa taong walang idea unless eh oversimplify mo.
TECHNICAL BOUNCE
I could go on all day sa mga myth sa stock market but I do not want to waste a lot of your time kasi andami pang myths sa merkado.
Let's focus sa technical bounce.
When a trader or investor runs out of explanation sa movement ng stcok ay kadalasan tinatawag nilang technical bounce.
They may bring up some technical indicator like RSI and say na oversold na kaya nagbounce. Oversold means maraming red/down days ang stock kesa sa up/green days. Walang kinalaman sa
The stock market revolves around the game of probability.
Let's take for example si DITO.
Sabihin nating may bad news kay DITO.
For some strange reason ay nasira ang 99 percent ng mga cell towers ni DITO sabay-sabay.
Ano ang mangyayare sa stock ni DITO?
"Babagsak syempre."
Bad news = bagsak ang stock diba?
Well, hindi ganyan sa stock market.
Sabihin natin na may 50 na tao na may hawak sa stock ni DITO.
Yung 20 alam ang news at gusto magbenta sa mura.
Yung 30 alam ang news pero ayaw magbenta at willing bilhin ng mas mataas ang DITO na stock.
Ano ang mangyayare?
"Ngeee! 99 percent nga yung sira sa cell towers eh!"
Yes. Focus lang sa 50. Ano ang mangyayre?
"Since 20 lang ayaw magbenta at may 30 na willing bumili sa taas edi hindi babagsak ang price."
Yes!
"Ha?"
Yan ang isang oversimplification ng stock market.
It's not hype-driven. It's not news-driven. It's not opinion-driven.
It's driven by buy and sell.
News, hype, opinion, etc. can be the reason behind those buy and sell but hindi sila ang direct reason.
"Bakit kadalasan pag may bad news eh may sell off?"
Hmmm. Interesting term ang ginamit mo.
"Kadalasan"
Walang significant correlation ang bad or good news sa galaw ng stock to a level na masasabi mong pwede ka magrely sa news.
Cancel SRO ng DITO = Green ang DITO
Napasama sa MSCI ang ACEN = Bagsak ang ACEN
Lumabas sa PSEi ang EMP last Aug = Umangat ang EMP
Pumasok sa PSEi ang EMP Feb= bumagsak ang EMP
Mga latest examples lang yan. There are decades of data sa ganyan.
Walang nakakapredict ng future.
Di napipredict or nalalaman mga reasons ng bawat traders or investor sa pagbuy at pagsell.
Because of that yung stock market or stock trading ay naging game of probabilities.
If you are interested in learning about stock trading properly then I suggest you join TDS.
Mag iiba lahat ng dati mo na paningin sa stock market.
Kung gusto mo ng seryosohin ang trading at ready ka na magcommit na matutunan ito, we highly recommend that you take Tabula Rasa Stock Trading Course and become a Traders Den Student (TDS).
Tabula Rasa Stock Trading Course is a 6-month course designed to teach the basic of stock trading. Ito yung course na di ka makakagraduate hangga't di ka natututong mag trade.
Here we will teach you the basic like:
How to chart?

What strategies to use in buying and selling?

Paano ang tamang approach sa trading?

Real time trading tips, diaries and blogs.

Live Trading Exercise

And much more…
We will also give you charting tasks and assignments para mas ma train kayo and maging live trade-ready.
If you think ready ka na, just complete the 5 PAMANA Trading Books either via Shopee Traders Den Student Starter Pack (5 PAMANA TRADING BOOKS) | Shopee Philippines or if OFW ka , pwedeng via this form https://forms.gle/XGtkJLVNTQwKzy3d6 and give us your name and email para ka makapagsimula.
We hope to see you onboard.
Happy Trading!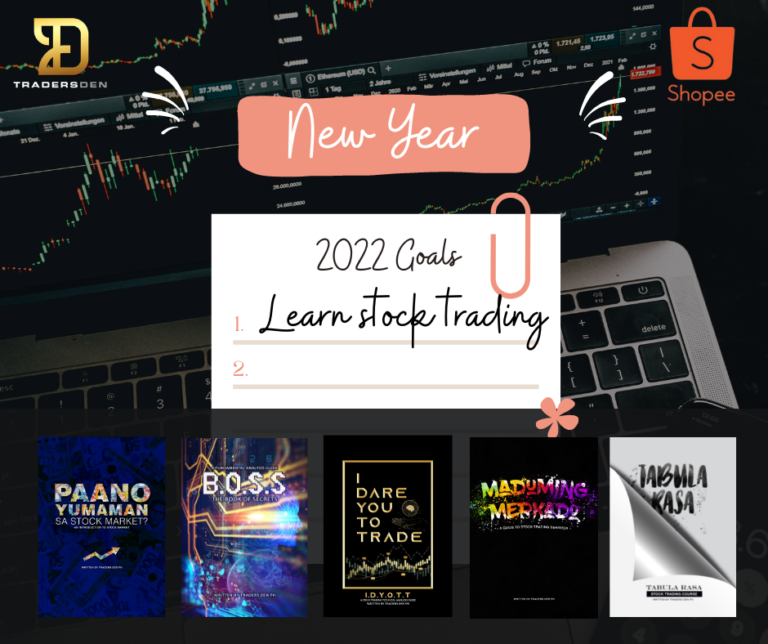 Looking for Pinoy Stock Trading Community? Join Traders Den!