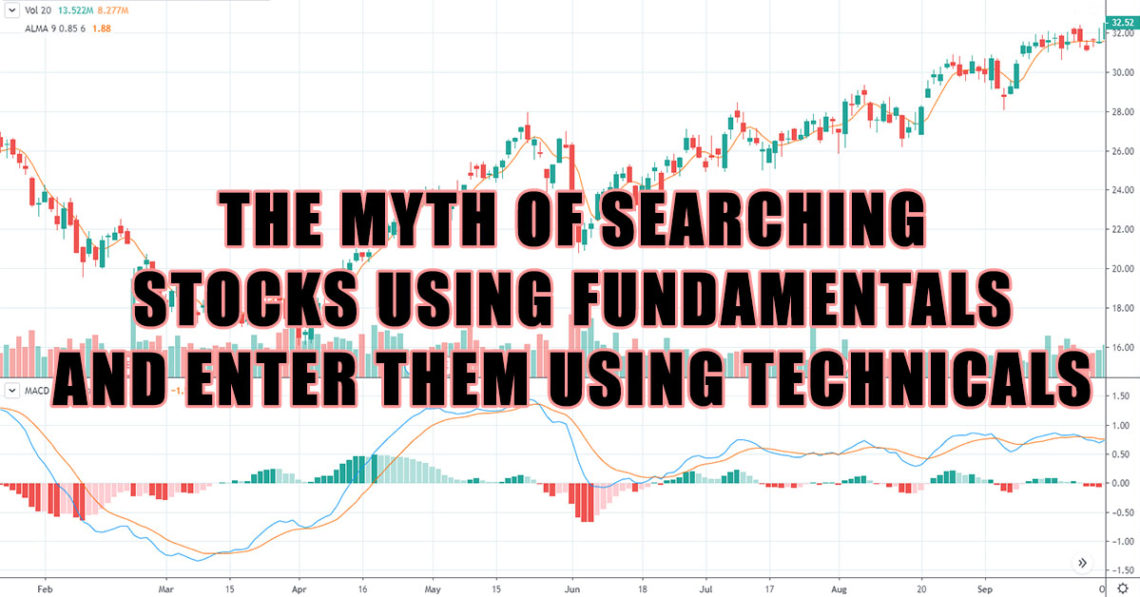 The Myth Of Searching Stocks Using Fundamentals And Enter Them Using Technicals.
It might surprise you but "gong hei fat choy" does not mean happy new year in Chinese.
Gong hei fat choy is the Cantonese way of saying the phrase and in Mandarin Chinese, it's gong xi fa cai (pronounced gong she fa tsai). It is wishing prosperity or wealth to a person. Parang "sana yumaman ka or sana umaseso ka" and not happy new year.
To say "Happy Chinese New Year" in Mandarin: xin nian (new year) kuai le (happy) – which is pronounced shin nee-an kwai le.
Filter stocks using Fundamentals
A lot of traders/investors nod their head in agreement when someone say that you filter stocks using fundamentals and enter/exit using technicals.
I bet you also agree with this one.
Let's take a step back and analyze the statement more.
"Filter stocks using Fundamentals."
Okay stop right there. Take a deep breath. Hmmmm…. what happens when you filter stocks using fundamentals?
You remove almost half of the stocks sa list ng PSE. I bet more than half pa nga.
Filtering stocks using fundamentals eliminates basura or penny stocks. All that is left sau are more or less bluechip stocks or first liners.
When you use Technical Analysis, you enter and exit stocks using indicators which are mostly derived from the price. Isa sa strength ng TA is being able to trade basura or penny stocks.
Entering a stock using Fundamentals removed that strength. Let's say you filter stocks using fundamentals.
You found a stock na may good earnings this year. Siyempre dahil good earnings niya low yung P/E ratio niya. Tawagin natin ang stock na si stock ABC. May good management team behind yung company ni stock ABC. May magandang earnings. May magagandang projects. Lahat ng financial ratios niya screams undervalued siya.
Napili mo si stock ABC. Now hahanap ka ng good entry. Let's say MA200 ang gagamitin mo as your technical indicator for entry or exit. Entry mo is pag break ng MA200 as resistance. Exit mo is pagbreak ng MA200 as support. Example lang ito ha. You can use whatever strategy or technical indicator na sa tingin mo nagsusupplement sa FA.
So ayon. May FA as filter ka na may TA as entry at exit ka pa. Perfect diba?
Now let us put some sense on what you did. You searched for a stock na undervalued with good fundamentals. Naghanap ka ng stock na may good management team. Naghanap ka ng stock na maraming projects. Nung nakita mo na siya ang decision making mo sa pagpasok ay pagbreak ng MA200 as resistance which was the average price for 200 days. Meaning papasok ka lang kapag above na ang price sa average price in 200 days. So bibili ka kapag ang price ay above na sa lahat ng naging closing price sa loob ng 200 days. Those prices were results of different buyers and sellers. Those buyers and sellers buy and sell stocks for different reasons. May iba dun bumili lang dahil trip nila. May iba dun nagbenta lang dahil kailangan nila pera. So on and so forth.
You searched for a stock na undervalued pero eh base mo ang pag entry mo sa past decisions ng iba't ibang tao. Does that make sense?
I remember VWAP users na gumagamit day or week na time frame noon. I had somewhat the same questions sa kanila. If VWAP's formula starts sa pg open ng market at ends sa pagclose then new day eh bagong simula na naman ng pagkuha data/formula eh ano ang sense ng pag gamit ng day or week timeframe.
Here is my blog about VWAP.
You want to know what is best sa FA at TA?Gusto mo malaman paano sila pagsamahin?
Our advocacy is FREE Education for Filipinos who are willing to learn stock trading/investing. We offer free Technical/Fundamental Analysis and Market Psychology learning materials. 
Interested to know about how you can profit in the stock market but have no time to study how to trade? Long-term investing through MARGe is for you. To know more, visit this link marge.com.ph
If you want to learn more about stock trading join our Facebook Group  Traders Den PH. 
Inside Traders Den PH  are the following: Weekly Lessons, Healthy Discussions about strategies, experiences, and lessons about stock trading. Trading strategies like MAMA, FISHBALL, PAPA, CALMA, and fun games too. For video guide you can watch our videos in Traders Den PH Youtube Channel 
We want to offer OFW's, Employees, and all Filipinos a chance to learn without paying a cent.  This is our way of giving back to the community.
Want to support our ADVOCACY? Click HERE.