Why Can't You Grow Your Trading Account?
Every trader wants to grow their portfolio through trading but only a few can do it.
It has little to do with the skill but more to do with the proper approach.
Let me show you a sneak peek at my upcoming book called TRADERS' HOLY GRAIL: THE SECRET TO TRADING FOR A LIVING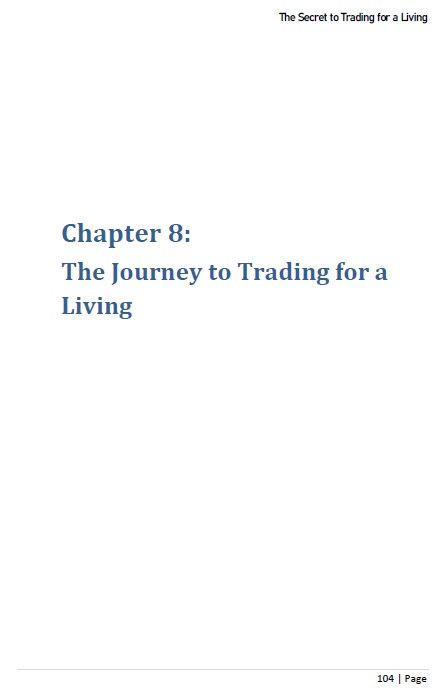 WHY CAN'T YOU GROW YOUR ACCOUNT?
You approach trading like you do a savings account.
Ginagawa mong alkansiya ang trading.
Ganito ang approach kadalasan.
Trade. Profit. Add Profit to Capital. Trade. Add Profit To Capital Again.
Repeat until your account is 100 Million.
Hahaha! Sabay "power of compounding!"
PAWER!
That will never work.
Hindi ka laging mananalo sa mga trades mo.
Mauubos lang mga profit mo if ganyan ang approach mo.
Look at how many traders tried to do a "I will turn 8,000 pesos into millions" then wala ka na narinig na update after a year haha.
Talk is cheap and magmumukha lang kwento sa pagong ang blog na ito so let me show you how growing an account looks like.
Ready?
Here!
May mga realities ang trading and yung approach mo ay dapat in line sa mga realities na yun.
Example.
You win and lose sa trading. Di mo alam ano mangyayare sa trades mo. Di mo alam ano ang outcome ng trades mo.
You cannot plan for a 10 straight wins sa trading.
Di mo pwedeng bilangin na "8,000 pesos ko kapag nag 20 percent profit ako at icompound ko in 10 trades na puro wins ay ganito na ang result."
Your approach is far removed from reality.
Dapat in line sa reality.
Ano ang reality sa trading?
You will sometimes win and sometimes lose.
If you win ay pwede mong iset aside ang profit mo.
When you lose ay dapat small losses lang ang itake mo.
You need to have a stable income muna habang inaaral mo pa ang trading.
You will have to add capital a few times kasi you will make mistakes and those mistakes will cost you monetary losses.
May dalawang upcoming book ako and nandun naspecify ang steps on how to do it properly.
They are the best of the best.
If you are trading forex, crypto or stock market ay para sayo yun and mura lang ang mga yun.
You can avail them here: https://bit.ly/3HU6rRy
TRADE DIFFERENT MARKETS
Isang approach sa pag grow ng account mo ay ang pagtrade ng iba't ibang markets.
You can grow your account trading PSE but if nais mo maspeed up ang growth ng account mo at magkaroon ng maraming options ay dapat open ka maglearn paano magtrade sa forex, crypto and US stock market.
You are in luck kasi sa ngayon open pa ang TDSI Batch 2.
It's the best mentorship program to learn how to trade forex, crypto and US stock market.
Newbie ka man, may experience na, OFW,Seaman, employed sa Pinas, Housewife, etc. ay pwede ka dito.
Avail it here: https://bit.ly/3E0bA8v
POSSIBLE
Growing your port or your account is possible if alam mo how.
Its not as magical as others try to make you believe.
Its a boring process na puno ng losses.
Para magrow mo ang account mo ay dapat kang masanay magtake ng losses.
You will win some and you will lose some but dapat maliliit ang losses mo.
You will have to fund and refund your account several times.
Yan ang reality.
Ang sino man na nakapag grow ng account nila through trading ay dumaan sa maraming losses at wipeouts.
Anybody that tells you otherwise are either lying or nakakapredict sila ng future.
Growing an account is a process na puno ng mental at emotional growth.
Its possible. You just need to be open sa idea na baguhin ang approach mo.
Most find it really hard to change their ways and approach kaya di nila magrow ang accounts nila.
It's February 27 so I'm just gonna leave this raw video of more than 5 Million Profit here.
It's still growing and this is just this month…
BATCH 2.0 IS COMING!
Learn how to trade US Stock Market, Crypto, and Forex. Never miss out on this! Be a part of TDSi!
Avail it here: https://bit.ly/3E0bA8v